Zumba, football and an emotional reunion in Za'atari
One year after our first visit, in May 2019, we planned an second journey to the Za'atari refugee camp in northern Jordan. The excitement to see many familiar faces and especially family Jundi with my little friend Abdullah again was huge.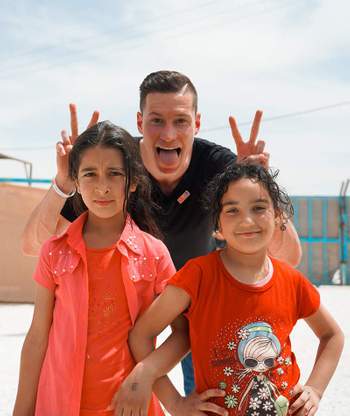 Through a donation of 435.000 Euro we will ensure a further expansion and preservation of three Makanis. 1000 partly traumatised children and young people can now experience a feeling of normality and security through school education and psychosocial care. After a short time staying in Za'atari you can feel the importance of this contribution for the young camp inhabitants.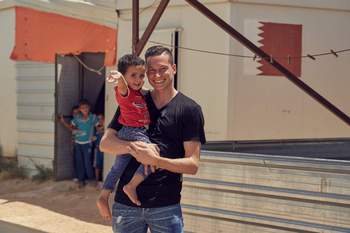 With over 500 pairs of football shoes and 50 footballs in my luggage, I kept my promise from last year to surprise the children in Makan with new equipment. The boxes were quickly unpacked and nothing stood in the way of a sweaty kick in the merciless midday sun of Jordan. Dazed by the heat, the happy mood and the shining eyes of the children, I convinced myself to take part in the Zumba lesson. Not surprisingly, as a footballer with a moderate sense of rhythm I didn't show the best figure here...but that didn't matter. We just had fun and could forget everything else for a moment. That's what a Makani is all about.

Maybe that's why this project trip touches me on a different emotional level than a year ago. The people honoured our return and our help with so much love and joy - it was just fun.