Commitment besides the pitch
Taking responsibility - not only on the pitch.
In addition to talent, ambition and hard work, luck was my main companion on my way to professional football. Luck to have had a fulfilled childhood and to have been encouraged, whether at home, at school or at sports.
In order to share this happiness with the smallest members of society, it is natural for me to take on responsibility just off the field.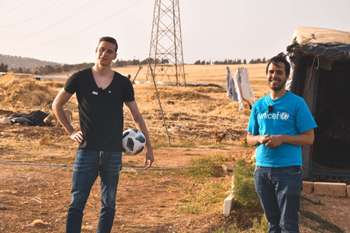 Protecting children is our duty and a great concern to me.
Regardless of his or her origin, every child has the right to a careless life and to equal opportunities. It is the duty of each of us to make this possible. Because only those who have a real chance can live their own dreams and achieve high goals.
Opportunities create motivation and motivation is an unforeseen strength.

Together with my partner UNICEF, we have the strength, stamina and volume to make a difference - in the name of all children. To give these children my voice, strong and loud - that is what I am all about!
From the football pitch to the biggest stadiums in the world - and just as much back.
Just as childhood is the basis for the whole life, amateur clubs are the basis for professional football. Especially the promotion of the children's youth teams in my home town Gladbeck was very fulfilling. Because just as I love games in sold-out stadiums, I enjoy the free weekends at the sports facilities of the Ruhrgebiet.